Our Avocate Soap is our best moisturizing and healing soap. The ingredients are all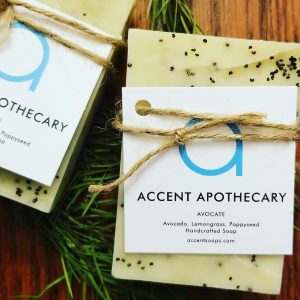 designed to keep the skin clean and moist, and prevent drying and cracking. Here is why this soap is so amazing:
Avocado Oil. Avocado oil has high levels of fatty acids and softens the soap bar while providing vitamins A, B, D and E.  We only use the finest avocado oil in this soap.
French Green Clay. French green clay is used worldwide for its healing, detoxification and purification properties. It exfoliates and softens the skin, and can help heal acne and other scrapes, blemishes and burns.
Avocado. We use fresh, organic avocado in this soap.  It provides a silky, smooth feel and helps sooth and nourish dry skin.  It is also rich in proteins and nutrients, including vitamin E.
Olive Oil. As always, we use high quality olive oil in our soaps, which provides a great lather and wonderful moisturizing properties, as well as gentle cleansing properties.
Coconut Oil. Coconut oil is a natural cleanser and bubble producer in our soaps. We keep the levels of this oil lower, because its natural cleaning abilities can leave the skin feeling dry. The coconut oil helps balance out this soap and provide a wonderful cleaning effect to the moisturizing.
RSPO Palm Oil and Palm Kernal Flakes. We use only sustainably harvested palm oil and palm oil flakes, and this recipe has both. Both contribute to the lather and hardness of the soap bar.
Lemongrass Essential Oil. We add lemongrass essential oil for the perfect citrus accent to this soap, which gives it a refreshing, crisp, clean smell.
Poppy Seeds. The poppy seeds we add to this soap for scent and exfoliating properties.
This cold-process all natural and 100% vegan ingredient soap will leave your skin feeling brand new, clean, and healthy. If you have burns, scrapes, or acne, this soap can help heal skin, moisturize dry or peeling skin, and help your pores with all-natural ingredients.