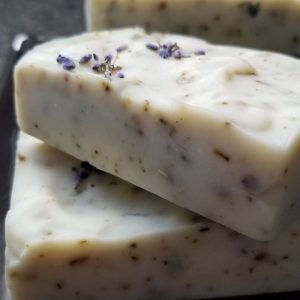 Le Calme was our first soap, inspired by the fresh offerings of the Pacific Northwest.  "Calme" is a French word meaning "calm, peace, quiet".
The way this soap smells and leaves your skin feeling fresh and moisturized is really amazing.  The soap can be used as a full-body shower soap or a facial cleanser. The subtle accents of bergamot, rosemary and lavender create a perfect cleansing aroma to relax and rejuvenate.  Here is a quick summary of the ingredients in this soap and why they work so well together:
Coconut Oil. Coconut oil is a natural cleanser and bubble producer in our soaps. We keep the levels of this oil lower, because its natural cleaning abilities can leave the skin feeling dry. The coconut oil helps balance out this soap and provide a wonderful cleaning effect to the moisturizing.
Canola Oil
Canola oil gives this soap it's great creamy lather. The oil also is a natural moisturizer.
RSPO Palm Oil and Palm Kernal Flakes. We only use sustainably harvested palm oil and palm oil flakes, and this recipe has both. Both contribute to the lather and hardness of the soap bar.
Bergamot Essential Oil
Bergamot essential oil is a citrus scent with antibacterial and anti-inflammatory properties. This essential oil is effective for treating acne and sensitive skin.
Dried Lavender
The dried lavender adds a gentle exfoliating element, as well as a natural aroma for relaxation. Lavender can help reduce wrinkles and lessen acne.
Dried Rosemary
Rosemary can help with blemishes and improves complexion. We use dried rosemary and grind it into fine elements to add color, texture and aroma.
Combined, these ingredients create a great healing soap that can help with blemishes, sensitive skin, and provide a natural aromatherapy in your daily routine!