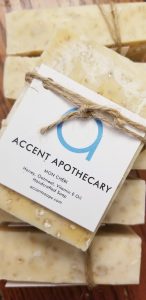 Oatmeal and honey may be the most popular soap that is crafted by millions of do-it-yourself soap makers. So what makes ours different? We add Vitamin E to ours to help with numerous skin conditions, including eczema, psoriasis, allergic reactions and itching caused by dry skin. We use top-shelf all-natural organic honey, alongside our organic and sustainably harvested oils to create a wonderful smelling bar of soap!
This soap is not edible! We feel funny to have to say that, but at least one of our customers has taken a bite of this soap. We do not recommend that.
Aside from the oatmeal, honey and vitamin E, we also use sweet almond oil in our Mon Chéri recipe, which helps treat dry skin, helps with sun burns, and improves acne!
Overall, our oatmeal honey variation is a great twist on a very popular soap that will leave your skin feeling moisturized, clean and refreshed!