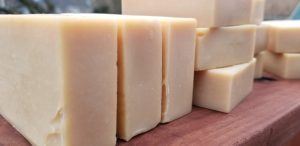 Noix de Coco Soap was inspired by our LOVE of coconut. The recipe contains a mix of organic coconut milk (in place of water), sweet almond oil, rice bran oil, sustainably-harvested palm oil, canola oil, shea butter, and coconut essential oil.
The mix of these oils is essential, because soaps that are ONLY comprised of coconut oil can actually dry the skin. The cleansing properties of this soap are incredible…so much that we also use it for a shampoo! The warm coconut smell from this soap is just another reason to love it.
The shea butter, canola and rice bran oil give this soap a fantastic lather, and its very rich in vitamin E. The sweet almond oil creates a wonderful texture and contributes to the moisturizing properties. The coconut oil is the main driver in the cleansing properties of this soap. The coconut milk in this soap helps with dry skin/scalp. The fatty acids in the coconut milk create a smooth, creamy bar of soap.
Overall, while one of our most recent soaps, this is our personal favorite!